Yoga Gurus
Teachers of Siddhant School of Yoga
Yoga teachers are the spine of a yoga school or a yoga center they are not only very important for a school, but also they are the spine of a healthy society. Yoga teachers have the right eligibility to develop certain educational qualities of a person which are very necessary to build a healthy community.
For a healthy society, these qualities are very necessary such as:
Commitment attitude
Will power
Right practice
Patience
Mindfulness
Relaxation
Discipline
Focus
The right way of breathing
Right understanding
Positive attitude
Gratitude-attitude
And many more good qualities are very useful for each and every person for health society
According to Siddhant School of Yoga's understanding, yoga teachers are the very necessity in this present society as an engineer, a doctor a lawer , a sweeper or any other. Looking at the present education system and its results in society, yoga teachers are much more important and useful than any other profession.
Actually, Yoga is not an optional education, it is the base of all education.
We are very aware of all the yoga teachers in our school. We follow certain criteria to choose a teacher for our school to work with. We must know about a yoga teacher when we talk about yoga education. Few unique qualities you can find in a yoga teacher such as
Right knowledge about the subject
Equal behavior
Good/clear character
Self-discipline
Self confidence
Motivational ability
Responsible
Self-practitioner
Because of these qualities, yoga teachers deserved respect & honor as they contribute to create & maintain a good and healthy society. A yoga teacher has a great potential to prepare you as a great personality having the right discipline and morality for society.
Any kinds of yoga course are very helpful to you for your personal, professional and spiritual growth. For your kind information, yoga course totally depends upon a proper yoga teacher. A good cook prepares delicious food out of simple things same like a yoga teacher can transform you from a simple man to a dedicated practitioner of yoga. Siddhant School of Yoga always presents some good yoga teachers during the yoga course for your complete growth.
Siddhant Ji
Siddhant, whose root is "Deep in the Spiritual" and his flowering is "Outside". He left his house for the sake of knowledge after his graduation, Bachelor in Science (B.Sc.). He visited different places for the sake of Spiritual Awakening and finally came to Rishikesh and started his intense spiritual practice near the presence of holy river Ganga and the Himalaya. By the time, he frequently visited different great Sadhus and Yogis to unlock the secret of life and to discover the unique spiritual practices. Those techniques have a very powerful impact on Siddhant to his spiritual transformation. He spent years with the different spiritual Masters and Yogis in Himalaya and all over India. In the guidance of great Yogis, he learned and practiced various types of Yoga with proper understanding. Such as: Hatha Yoga, Raj-Yoga, Kundalini Yoga, Laya Yoga, Tantra Yoga, Kriya Yoga, Dhyan Yoga, Mantra Yoga, Karma Yoga, Janna Yoga and many more different kind of Yoga along with Pranayama, Bandha( Yogic locks), Mudras( Yogic Gestures), Unique Yogic Kriyas , Yoga-Nidra, The right way of Mantra chanting, Various types of Meditation Techniques, Relaxation Techniques, Communication Skills, different types of Morden Yoga Philosophy and the Ancient Traditional Indian Philosophy, Knowledge about religious scriptures, Pranic Healing, Reiki, Acupressure, Magnet & Yoga Therapy, Ayurved, Yoga Anatomy, different Cleansing Practices, Naturopathy and more other techniques for the self-growth used in different parts of the World.
After years of serving, learning and practicing, Siddhant chose 'The Path of Yoga' to serve humanity. He has been guiding the students, different aspects of Yoga, some unique tips and techniques for growth and success since years. Siddhant focused on the Yoga Philosophy, Meditation and Pranayama as these all develop the right Understanding and the attitude of Gratitude in you for your growth.
Now, Siddhant is staying at Rishikesh, India and running a yoga school named SIDDHANT SCHOOL OF YOGA. He is sharing his knowledge & understanding with those seekers, who are coming to learn Yoga and its aspects from different parts of the world.
Manpreet
Manpreet is a Yoga & Spiritual Practitioner. She has been practicing different aspects of spiritual practice for the last 15 years. She loves Ayurveda, Naturopathy, Anatomy and engaging in different kind of Spiritual and Yogic activities related to Indian culture. She is very practical, punctual & sincere to her work. She is a good practitioner of Meditation and Mantra Chanting
Sandeep
Sandeep is living in Rishikesh, India. His extra specialization and interest are in Sanskrit and many religious books like Gita, Upanishads, Vedas & Yoga Sutras, etc so he is very good in Mantra science. He is also conducting fire ceremonies (Yangya). He has been practicing Hatha Yoga & Ashtanga Vinyasa for the last 5 years. He knows body alignment & body adjustment. He is also good practitioners of Pranayama and Meditation. His aim is to gain the supreme knowledge and spread it to al in yogic way.
Hemlata
Hemlata is an officially Physiotherapist in a reputed Hospital in Rishikesh. She has worked hard to become a Yoga-Anatomy teacher to present the yogic part of the Anatomy is very challenging. Hemlata has a good command of Human Anatomy and Physiology and very good in Yoga Anatomy. She is presenting all the classes in a digital and practical way. You can solve your Yoga-Anatomy quarries in her class. She is very kind and discipline. As she is in the medical field and in-touch with Yoga so she understood and capable to make you understand the importance of health in a yogic way in her Yoga-Anatomy class.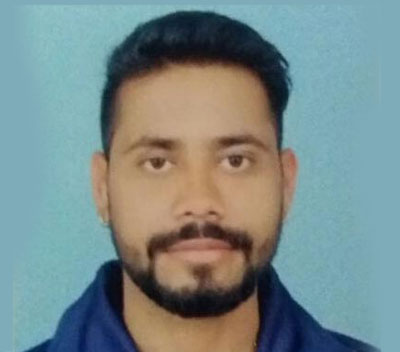 Vishal
Yoga Teacher Vishal, born in holy city Rishikesh, he has been teaching various kinds of yoga like Hatha-Yoga, Iyengar-Yoga and Ashtanga-Yoga from years and Vishal holds a Master Degree in Yogic Science from Uttarakhand Sanskrit University. He is running a Yoga center, teaching Hatha- Yoga, Ashtanga-Yoga and Iyengar-Yoga in Rishikesh Town to the Indian students. He has been teaching in our Yoga School for a long time. He is a good improviser, he has a good and sound understanding of Hatha- Yoga and Ashtanga-Yoga.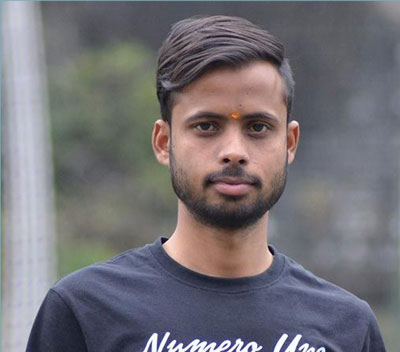 Varun
Varun, born in Rishikesh Himalayas, after completing graduation come in the field of yoga. He has done a 1-year diploma course in yoga and 200 hrs YTTC and he has been always trying to help others since childhood but after joining yoga it is more intense in the right way. He is living a yogic lifestyle with the proper practice of Pranayama, meditation, Hatha yoga and Ashtanga last three year and he loves Ashtanga. His aim is to gain and spread knowledge of yoga to all.
Kokil Nath
Kokil is from Assam, the north-east part of India. He is not only a yoga teacher, but he is also a seeker of Truth. He has a sound knowledge about Asana, Pranayama, Meditation and Yoga philosophy. As he has a seeking attitude, he is very honest, authentic and truthful to himself and others. He is with us as a yoga teacher and for his Yoga and Spiritual growth as Siddhant School of Yoga is providing a good environment to grow whether you are a student or a teacher.
Chittaranjan
Chittaranjan is a hardworking, sincere, confident and enthusiastic person. He is teaching Pranayama, Yogic Locks, Yogic Gestures, Yogic Purification Methods and different types of Yogic activities along with Ashtanga-Yoga and Hatha-Yoga. He has strong willpower & he is ready to learn new things. Believe highly in teamwork and adapt to any environment with ease. Strong problem analysis, resolution, and writing skills. He has the capability to work even in adverse situations. He likes to face new challenges and doing experiments. He believes in Perfection and Dedication.